Full Name

PLANET,INC.

Address

Bunka Hoso (Nippon Cultural Broadcasting) Media Plus Building,
3rd Floor1-31 Hamamatsucho, Minato-ku, Tokyo 105-0013

Date of establishment

August 1, 1985

Capital

¥ 436,100,000

Listing

JASDAQ Standard (Securities code:2391)

Main financing banks

Bank of Tokyo-Mitsubishi UFJ, Mizuho Bank

URL

Major shareholders

・Lion Corporation
・Intec Inc.
・Unicharm Corporation
・Shiseido Co., Ltd.
・Sunstar Inc.
・Johnson Company, Limited
・S. T. Corporation
・Nippon Paper Crecia Co., Ltd.
・Cow Brand Soap Kyoshinsha Co., Ltd.
・The Procter & Gamble Company, Japan
・Kobayashi Pharmaceutical Co., Ltd
・Unilever Japan Customer Marketing K.K.
・Kracie Home Products, Ltd.
(as of October 26, 2016)
Directors and Auditors
Representative Director and Chairman

Hiromasa Tamanyu

Representative Director and President

Masakatsu Tagami

Managing Director

Toshio Matsumoto

Directors

Tetsuya Yamasaki
Itsuo Hama
Sadayuki Ishii
Koji Hirota

Audit&imp;Supervisory Board Member

Akio Kuroiwa
Nobushige Inoue
Yoshinobu Ishigaki
(as of October 26, 2016)
Executive Officers
President and Chief Executive Officer

Masakatsu Tagami

Senior Managing Officers

Toshio Matsumoto

Executive Officers

Tetsuya Yamasaki
Hiroshi Yamamoto
Wataru kawamura
Shigeharu Takiyama
Hidetomo Uehara
Yoshitsugu Imamura
(as of April 1, 2017)
Financial Results
Financial Results 2017 

(160KB)
Summary of Financial Results 2016 

(80KB)
Summary of Financial Results 2015 

(80KB)
Access map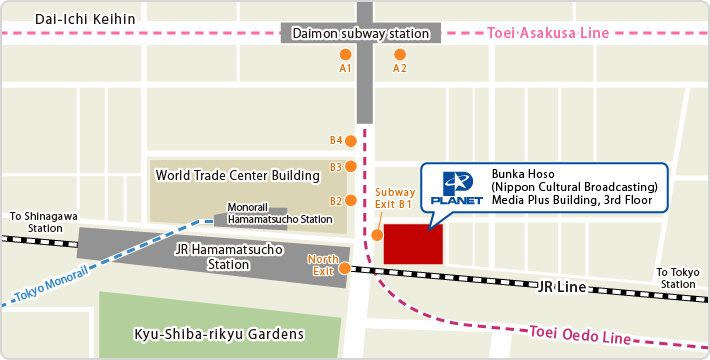 Company History
1985 .

PLANET founded; capital: ¥ 240 million
Shareholders at that time: Lion Corporation, Unicharm Corporation, Shiseido Co., Ltd., Sunstar Inc., Johnson Company, Limited, Jujo Kimberly (current name: Nippon Paper Crecia Co., Ltd.), S.T. Chemicals (current name: S.T. Corporation),
Cow Brand Soap Kyoshinsha Co., Ltd., Intec Inc.

1986 .

Purchasing data, sales data go online

---

Order data, invoice verification data go online

1987 .

Awarded "Nikkei Marketing Journal Prize" at annual Nikkei MJ Superior Products Awards

1988 .

FAX ordering system goes online

---

Publication of "PLANET van van" newsletter

1991 .

Inventory data goes online

1994 .

Item tracking data goes online

1995 .

Issuance of "Total EDI Summary Report," Announcement of "100% Online Order Placement/Receipt Concept"

---

Contracted by All Japan (Home Products) Wholesalers' Network

1996 .

Introduction of Comprehensive Business Interface Form (beginning of switch to new form transmission format)

1997 .

EDI for Procurement goes online

---

CPG product database service goes online

1998 .

Announcement of "Vision for Optimal and Effective Supply chain management (VOES)

---

"Retailer-Wholesaler EDI Summary Report ("WES," new edition)" published in cooperation with the All Japan Cosmetics and Daily Necessities Wholesalers' Association.

---

Launch of location database service

1999 .

Downsizing of EDI for Enterprise Systems (in response to TCP/IP)

2000 .

Pet industry begins using the product database

2001 .

Launch of Web-based order placement/receipt service

---

Launch of Web-based EDI service for procurement

---

Launch of single-portal "Buyers' Net ® " service

2002 .

Personal care industry announces use of EDI services

2003 .

Pet industry introduces   Comprehensive Business Interface Form

2004 .

IPO on JASDAQ

---

Acquisition of ISMS Conformity Assessment Scheme accreditation

2005 .

Launch of Internet EDI" SMOOTHEDI ® "

2006 .

Launch of Product master registration support services

---

Launch of sales report services

---

Publication of "How To Succeed As A PLANET-type IT Business" book, and the "EDI Explained" pamphlet

2007 .

Acquisition of ISMS International Standard (ISO27001) certification

2008 .

Customer Communications, Ltd., becomes an affiliate

---

Received transfer of Japan self-medication database operations

2009 .

Launch of the OTC medicine instruction database service

---

Converted communication protocol for all EDI services to "Zengin TCP/IP" and "AS2"

2010 .

Offices moved to Bunka Hoso Media Plus Building, 1-31 Hamamatsucho, Minato-ku, Tokyo

---

Connected product database with FDB, the data pool for the liquor and processed food industry.

2012 .

In our first change of president in 19 years, Hiromasa Tamanyu became the Company's chairman, and Masakatsu Tagami was appointed President and Chief Executive Officer

2013 .

Launch of "MITEOS", the web-based EDI service

2015 .

Issuance of survey report "Mindset and activities that enhance inbound consumption of CPGs and OTCs"