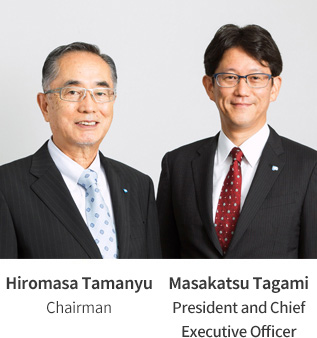 The social environment in Japan is changing dramatically.
With the steady march of a declining population and an aging society, existing markets will continue to shrink as the social security system reaches its limit. Meanwhile, the number of foreign tourists visiting Japan continues to increase and a new, inbound, global market is born.
Along with the worldwide rise of smartphones, web services and social media, more and more travelers from all over the globe are talking about products and services from other countries in their own languages and spreading information instantly in their home countries. You could say that now we are in an era when people from overseas are promoting Japan for free.
We must seize these changes as opportunities and reexamine the social infrastructure we have thus far.
PLANET,Inc. was founded by leading industry manufacturers and created Japan's first industry-specific EDI (Electronic Data Interchange) service in 1985. The idea that "everyone adapts to industry standard specifications", without bringing in the individual specifications of each company to EDI, was advanced.
The EDI service, which is available to everyone, and which can be expected to improve business efficiencies for both parties, has been adopted not only in the household goods and cosmetics industries but also in the pet food and pet goods industries as well as in the OTC (Over the Counter)pharmaceutical industry too. In this way the EDI service is working as an information infrastructure for the distribution of consumer goods.
Additionally, CPG&OTC product database gather (product) information and product images from manufacturers on thousands of new items which are released in the industry every year and feed this information through to the entire distribution chain.
I believe that the time has come to further develop these information infrastructures.
For more immediate measures in dealing with the global market, the promotion of product information in multi-language('multilingual support') and 'cross-border business' should be considered.
Firstly, we should encourage foreign travelers in Japan to get to know the benefits of Japanese consumer products, and support them when they review and rate such products on the internet. To that end, it is absolutely vital for us to provide multilingual support when it comes to displaying product information.
Likewise, it is necessary for us to understand that inbound foreign visitors and cross-border business are two sides of the same coin.
Products that people came across in Japan and then introduced overseas, can only be purchased in Japan. That's why products that inbound tourists find popular are purchased through cross-border e-commerce websites (imported privately: B to C). To make it possible to purchase popular Japanese products in the consumer's home country at any time is the role of 'cross-border business (B to B)'. When Japanese products are officially imported and sold abroad, sales volumes increase and a huge market is born. At that time, it will surely become necessary to have an international EDI connecting Japan with countries abroad.
In this way, if we can work out the mechanisms which make the global market work, and respond accordingly, we will not only overcome the shrinking market, which is the result of a declining population, but we can also expect new growth as a high-quality exporter of Japanese consumer goods.
PLANET,Inc. will carry out these unprecedented challenges along with manufacturers and the distribution industry, taking small and steady steps by and by.
PLANET,Inc. continues to be an information infrastructure for the distribution of consumer goods far and wide even as the company heads towards from now on.
July 31,2017